Shut Your Legs & Open This Book:
A Sex Ed Manual for Growing Girls
Written by: Older Male Politicians

Male politicians don't know much about women's bodies. They do, however, legislate women's bodies.

To highlight this absurdity, we wrote a book in their voice using some of the very intelligent and not at all insane things they have said on the matter. All direct quotes are referenced below each excerpt.

The Side Show: Gold Winner

Order a printed copy

here

!
5. Trump's adjectives for women. "Horseface", "Not hot", "Nasty", "Low IQ", "Unattractive both inside and out", "Dog", "Voluptuous", "Bimbo", "Good body", "Miss Piggy", and "Perfect 10" were used in reference to Stormy Daniels, Jessica Chastain, Hillary Clinton, Maxine Waters, Rosie O'Donnell, Omarosa Manigault Newman, Ivanka Trump, Megan Kelly, Steffi Graf, Alicia Machado, and Heidi Klum respectively. Trump used "beautiful piece of ass" to describe various women he's been involved with.
6. "You can see there was blood coming out of her eyes, blood coming out of her wherever…" -Donald Trump


7. In 2006, as head of the Republican Study Committee, a group of the 100 most-conservative House members, Pence rose in support of a constitutional amendment that would have defined marriage as being exclusively between a man and a woman. Citing a Harvard researcher, Pence said in his speech, "societal collapse was always brought about following an advent of the deterioration of marriage and family."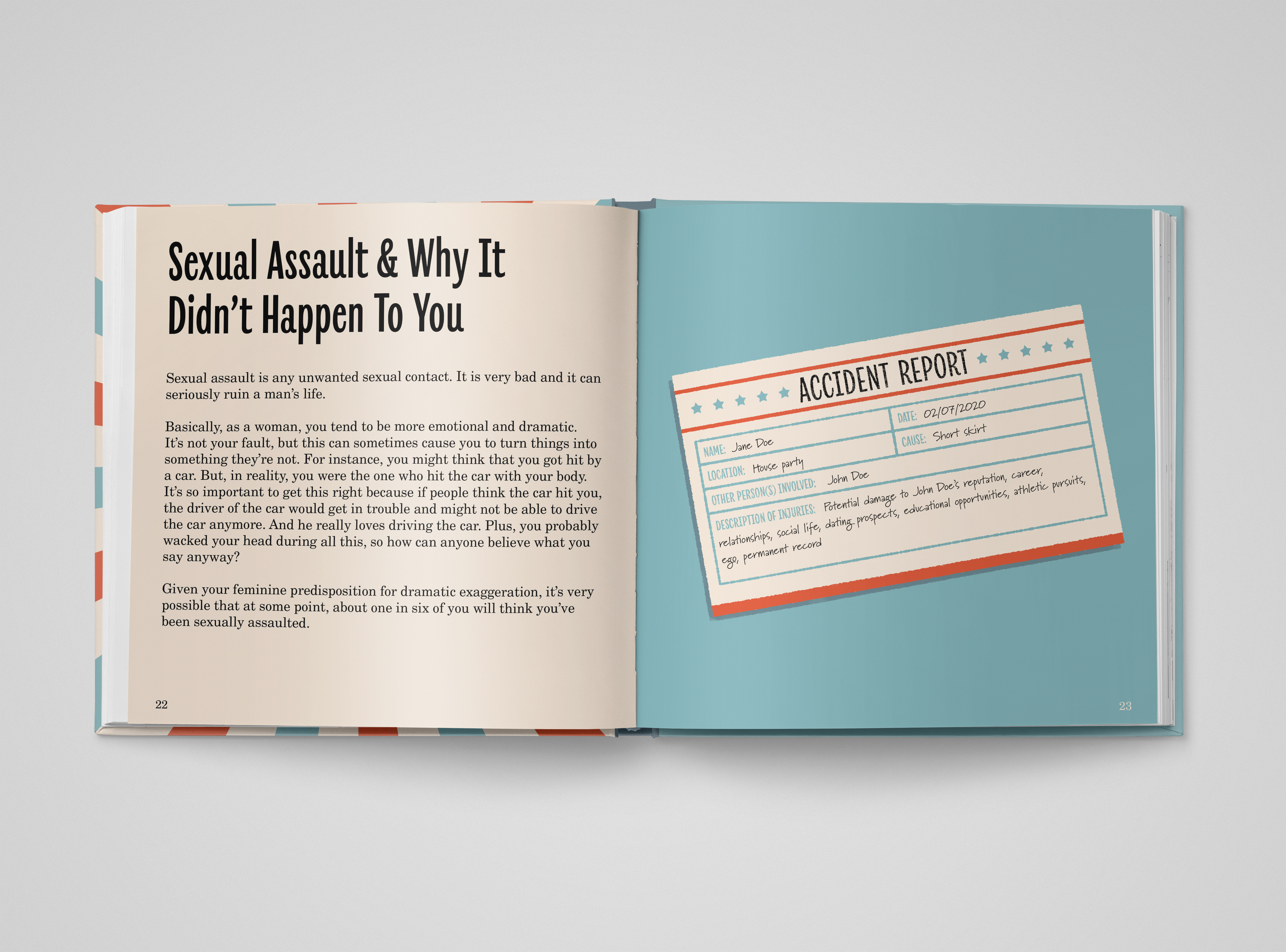 20. Bretibart.com, December 2015: "Birth Control Makes Women Unattractive and Crazy"
21. "Senator, I don't know if I'm smart enough to be pregnant, so I appreciate the wisdom of our heavenly father."-Senator Clyde Chambliss, Alabama State Senator and one of the sponsors of HB 314, Alabama's abortion ban.
22. Dan Flynn, anti-abortion Texas lawmaker, during an interview on Full Frontal With Samantha Bee: "I'll tell you what, anytime you start cutting on people's body [sic] you need to have it in a procedure where it can be healthy," Flynn tells Bee, who responds, "Of course. You don't cut a woman during an abortion, though."

23. (On late-term abortions) "The mother meets with the doctor. They take care of the baby, they wrap the baby beautifully. And then the doctor and the mother determine whether or not they will execute the baby."-Donald Trump, stated on April 27, 2019 in a rally in Green Bay.

Full Book

Here


(Full reference section in back)